A PERFORMANCE ART & MUSIC VENUE
in the heart of Romiley

Now on Sale
Our upcoming performances. Click on an event for more details or to buy your tickets & use the arrows to change the month.
The Perfect Venue
HAVING A BIRTHDAY PARTY? NEED TO HOST A WORK CONFERENCE OR MEETING? ARE YOU A PERFORMING ARTIST, LOOKING FOR A PLACE TO SHOWCASE YOUR TALENTS?
THE FORUM THEATRE, A PERFORMANCE ART AND MUSIC VENUE SITUATED IN THE HEART OF ROMILEY, BOASTS A VARYING AND VERSATILE CAPACITY, WITH THEATRE SEATING FOR UP TO 140 PEOPLE, CABARET & PARTY SET UP FOR 200 PEOPLE AND A STANDING CAPACITY OF 500, ALONG WITH SMALLER ROOMS AVAILABLE FOR USE TOO.
TELEPHONE 0161 430 6570 OR EMAIL boxoffice@theforumtheatre.co.uk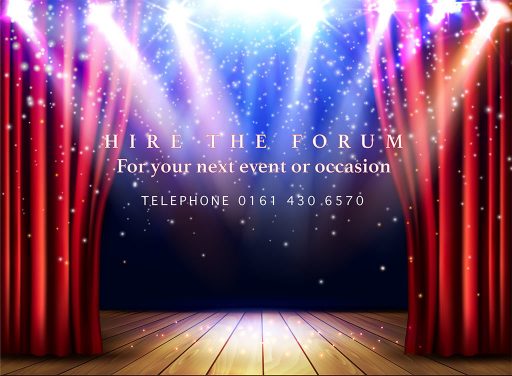 CORPORATE SPONSORSHIP
We offer a bespoke corporate membership package and rely on partnerships with similarly forward-thinking, visionary businesses to support our ground-breaking work for the community both on and off stage.
For more information on how to become a corporate supporter for NKTA and The Forum please contact dominic@nkta.co.uk
The Forum Theatre is managed by NK Theatre arts and as a registered charity are reliant on the support and generosity of others.
Email: boxoffice@theforumtheatre.co.uk
Tel: 0161 430 6570